Terms & Conditions o
Ordering and Delivery
Incorporating our 'Terms and Conditions'. Placing an order deems acceptance of these terms.
How to order
Select from our wide range of alpine plants in our Plant Shop, add quantity to basket
Pay securely with a credit or debit card
You receive an immediate confirmation of your order by email
We dispatch Monday and Tuesday

- please allow us time before this for preparing your order.

We send a dispatch email once we have sent your plants letting you know when they should arrive
Your plants will be delivered by parcel courier
Online orders and payments only, please.
You can order and pay online through our online Plant Shop. Sorry, but we can't offer telephone ordering, back ordering, reserve plants or offer printed catalogues and the nursery is not open to visitors. We run our small business entirely by ourselves so we need to keep things simple and streamlined for us to work efficiently and offer a good level of service. We simply can't be all things to all people!
We regret that we need to impose a modest minimum order quantity of £15.00 (5 or 6 plants usually). The high relative cost of postage makes very small orders unprofitable for us and unnecessarily costly for you.
If you intend a larger order (more than 64 plants) then please contact us to discuss your requirements but please note - we are simply not geared up to offering the quantities of plants often demanded by garden designers, landscapers and large schemes; it's just not what we do. We deliberately keep relatively low stock levels of each plant on our order system (it helps us keep it more accurate, strangely) so that every plant ordered is available and delivered. The system will prevent you ordering more than we have stock of and if you want more you will need to contact us. We grow many thousands of plants each year but only in relatively small batches per variety.
If you have any questions about ordering, plants, availability, delivery - in fact, anything - please use the Contact Us form and we will reply as soon as we can. Please be patient - we are often extremely busy.
We are an entirely online business, not telephone or postal based, so please use email or our Contact Us page.
Delivery
We can also deliver plants to your local Post Office for you to collect.
Delivery is by parcel courier - we use Parcelforce.
Parcels do not need signing for - no more waiting in all day!

D

ispatch days are Monday and Tuesday
Delivery to all of

mainland

UK is £8.95 for up to 32 plants - this includes the north of Scotland and Skye.

As above, but 32 to 64 plants, the cost is £17.95 P

lease tick the appropriate box at the checkout stage.

We do not send to Northern Ireland, the Channel Islands, the Isle of Man or any island (except Skye)
You should normally receive your plants within 10 days of ordering (probably sooner).
How can you help us give you the best delivery service?
Tell us your 'Safe Place'. Parcelforce can leave a parcel without signature in your designated 'Safe Place'. Many of our customers are happy for parcels to be left in a front porch, in the greenhouse or with a neighbour, etc. - simply tell us where. However, It is only fair we point out that Parcelforce will reject claims for non-delivery (and rightly so) but every parcel is still tracked right to its destination - even the delivery vans are GPS tracked and recorded.
Give us your mobile phone number. Parcelforce can then send a text message (SMS) on the morning of delivery day so you can make arrangements for receiving your parcel. Your number will only be used for this purpose.
Ask us to deliver to your local Post Office. A useful option if you are out most days or you wouldn't feel happy with a parcel being left at your door. You do need to be able to collect the parcel yourself during Post Office hours of course and you will probably need a form of identification with you, but this option might suit your circumstances. Please be aware that larger orders may be quite heavy for carrying. We use your postcode to locate your nearest Post Office or you may specify a particular one.
Ask for delivery elsewhere - you may have plants delivered to, for example, your place of work, a friend or relative or a neighbour. An option to change the delivery address is available as you pass through checkout.
Do you live in a rural area? We do too and are aware of the problems with getting reliable deliveries. Parcelforce has strong links with Royal Mail and often hand parcels to them for final delivery in remote areas. It's an excellent service and unique to Parcelforce although parcels often take an extra day to arrive.
We always dispatch as quickly as we can but please bear in mind there might be a delay in receiving your plants - plants need to be dry to pack and travel well and this may take 2 or 3 days before dispatch. We can also be hampered by the weather as we can't dispatch orders at all during periods of severe weather. If we anticipate extended delay we will keep you advised by email.
We try to collate all orders for dispatch on Mondays and Tuesdays to prevent plants sitting boxed-up over the weekends, either before or during delivery, so expect to receive your plants Wednesday to Friday. You will receive an email from us once we have dispatched your order, estimating your day of delivery.
Non delivery - where are my plants!
Thankfully, this rarely happens but things can go wrong - weather events, breakdowns, illness etc. As explained above, you should normally expect to receive your order by the day you were advised in our automated dispatch email.
You must tell us if your plants do not arrive as planned, preferably by email or our Contact Us page and preferably on the same evening of your expected delivery day. In all but very rare and exceptional circumstances your plants will probably arrive only one day late - but please let us investigate as soon as we can to reduce any further delays. Your plants are our responsibility until they are delivered. We want you to be happy when you open your box of plants!
Payment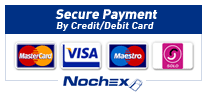 Pay securely online. Pay with most credit and debit cards using our payment partner, Nochex, who are a respected, independent provider of electronic payment services, based in the U.K. We never see your card details - these are handled securely (data encrypted) by Nochex and only the payment is sent to our account. Nochex also offer Mastercard Securecode and Verified by Visa - additional card security measures to protect you (and us) from fraud. Please note - your payment will show on your bank statement as 'NOCHEX', not Craigiehall Nursery.
We will continue to accept cheques, despite recent bank closures. Please place your order online then select 'Send Payment by Post' as you your payment option.
We can not accept orders or payments by telephone.
V.A.T. We are not required to be registered for V.A.T.
We value your privacy as we value our own.
We will not store your personal details without good reason.
We do not send marketing emails, news letters etc.
We do not pass on any details to third parties
This site uses cookies but only to make the site easier to use.
We will only collect your personal details as required to process your order. We must also keep those details in our records/accounts to comply with HMRC and other regulatory requirements. We will not pass on your email address, postal address or telephone number except to our carriers who use some or all of this information only to make deliveries. We will only contact you by email or by telephone as required in fulfilling your order or dealing with your enquiries. Nochex handle your payments in a safe and secure way and our own payment pages are fully encypted (SSL enabled). This site does not use cookies to gather or store information about you or your shopping habits.
Unsure about buying plants online?
Please read our About Us page and you will see we are not a face-less business, unlike many online shops. You know who you will be dealing with and who to contact if things go wrong - good, old-fashioned service but handled in a modern way. We trade on an honest, moral basis - we are people too! Also, please see our Returns section below.
Alpine plants are well suited to being packed up and 2 or 3 days in a box won't harm them - nurseries have been sending plants by mail-order for many decades. We receive constant praise from customers on our efficient packing method using reused and recyclable 'green' packaging.
Every plant in our Plant Shop is propagated and grown by us, then photographed and described by us, so we hope you can be entirely sure of what you are ordering.
Returns (and what to do if things go wrong)
In the unlikely event of you being unhappy with plants you have received - please Contact Us without delay and we will aim to sort things out to your satisfaction. You also have statutory protection under the Consumer Contract Regulations. Plants, being perishable, are excluded from parts of this legislation. We may accept returns at our discretion and only by arrangement. Return postage is the responsibility of the customer. Subject to plants being received back in good condition, we shall issue a prompt refund including your original delivery charge.
Please contact us if you have any concerns about your purchase. Mistakes can happen and we aren't immune from human error. Please use our Contact Us form or send an email - we do not do business over the telephone. Please be assured that we will attend to any complaint or dissatisfaction you may have in a friendly and courteous manner - complaints will be dealt with quickly and without fuss.
Our plants are grown to very high standards but we can't offer any guarantee on plants once you have accepted them and they are in your care. Sadly, nature sometimes has her way and we can't be responsible for that but we will consider any genuine complaint. If you subsequently discover plants are wrongly labelled (once they flower, for example) then naturally, we would hope to rectify that. Our liability is restricted to the original price of the plant(s) and we will refund only that amount.
Finally, and to end on a positive note - what to do if things go right! We do hope your purchase from us will be a happy and rewarding one and if it is, please let us (and others) know by leaving a comment on our Reviews page. A little praise, when deserved, helps us all. Thank you.
Innes and Nicola Hogg Trading in partnership as Craigiehall Nusery, Carnwath, Lanark, Scotland. ML11 8LH