Helianthemum - Alpine Plant Shop
livepages::jquery();?>
Helianthemum - 'Rock Roses'
A wide range of fresh plants will be available from around mid-April. We will announce the exact time here a week or two before. No pre-orders!

Thursday 15th April confirmed for accepting orders.
Helianthemum means 'Sun Flower' but they are usually called 'Rock Roses' and are fantastic plants, especially for dry, sunny sites. They grow as low, spreading bushes, usually about 15 to 30cm (6" to 12") high and will produce brightly coloured flowers for a long period in summer. Many have greyish leaves and all are drought tolerant - ideal for gravel gardens, among or beside paving, sunny bankings etc., or any sunny part of the garden with reasonable soil. We offer one of the widest ranges of varieties available online, though not in large quantities. Read more
If you cannot decide on which varieties to choose, we offer our selection of 8 different ones - Collections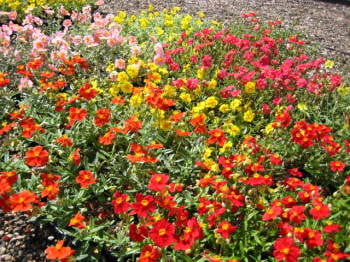 Like all our plants, our Rock Roses are grown in 9cm, full depth pots. They are hard, well-grown plants and true to name. Many nurseries offer Helianthemum plants - some as plugs or little more than rooted cuttings, others in over-priced large pots. We think our plants offer good quality and value - and they are some of our best selling plants.
Plants in this Group: